Urban Crop Solutions, the global indoor farming solutions provider headquartered in Belgium, appoints Tom Debusschere as the new CEO of its group. Co-founder Maarten Vandecruys will continue to lead the R&D division and will spend more time for international business development.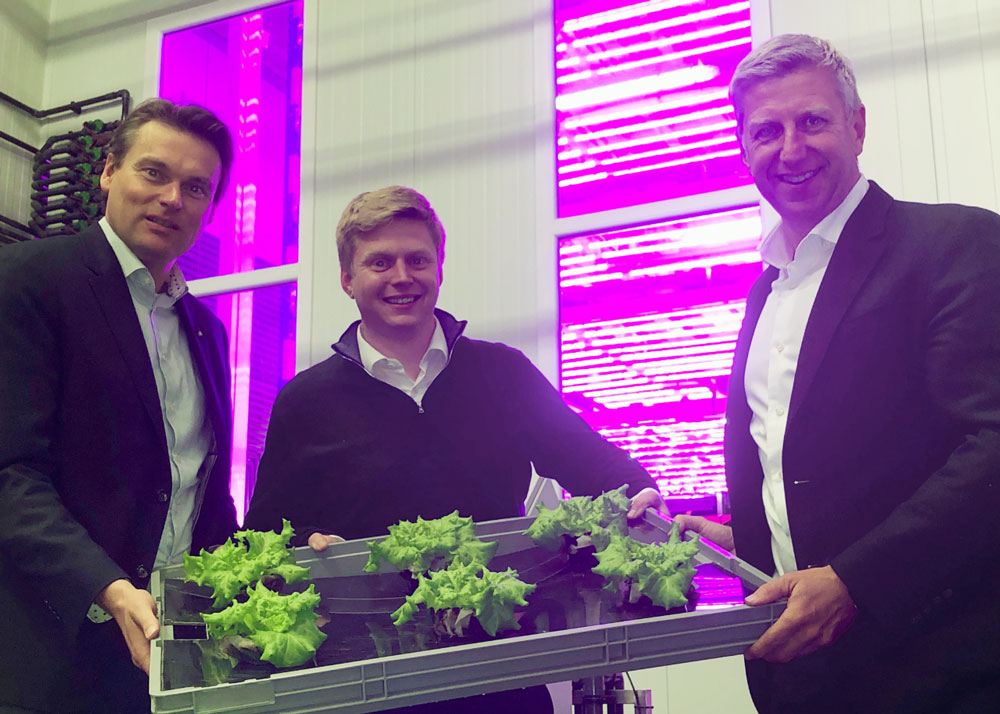 Tom Debusschere has an engineering and business background. Over the last 10 years, he lead two multinational industrial companies headquartered in Belgium, Deceuninck Group and Balta Group, both listed on the Brussels Stock Exchange. Urban Crop Solutions has grown tremendous in the last quarters. The company now has a proven technology and an expanding customer base in Europe, North-America and Asia; and is ready for international growth. The appointment of a seasoned leader will accelerate this process.
The goal of Urban Crop Solutions and Tom Debusschere as its new CEO is to develop the company into a leading total solution provider for the fast emerging indoor vertical farming industry.
Tom Debusschere also subscribes substantially into the Company's series A capital round, targeting a 6m EUR capital increase, expected to close in the coming months.
"With the appointment of Tom Debusschere, we validate the ambition of our group and our shareholders." explains Frederic Bulcaen, co-founder and chairman of Urban Crop Solutions. "Tom's proven leadership, combined with his engineering background and his experience in building global organizations is a perfect match with the long term strategic plan that we are rolling out."
Tom Debusschere: "When I met Frederic and Maarten as a prospective investor, they were extremely transparent and offered me the opportunity to take a deep look into the Company's superior technology, research projects, customer base, order pipeline, and above all their ambition. That's when I truly got excited and offered them to help grow Urban Crop Solutions globally. The international potential is considerable. In 2050, the world population will grow to 9 billion people, of which 70% will live in cities. Indoor farming offers exciting opportunities for reduced water consumption, efficient land use, and bringing pesticide-free, healthy food close to consumers. Urban Crop's research also focuses on efficient farms for use in pharmaceutical and cosmetics applications. I truly look forward in getting to know our Customers and Partners and help build sustainable factories for this fast emerging branch in the agricultural industry"
"Tom's experience will bring tremendous value for our customers and to our team." explains Maarten Vandecruys, the company's co-founder. "The timing is perfect, as we feel that our products and services get traction in all parts of the world. As we are growing, we need to hire talent and develop our team. With Tom we gain the multinational and operational experience for our global roll-out, while my focus will lie on delivering superior solutions for our clients in both existing and new markets. This kickstarts the next phase in our company as we will build teams in various countries and time zones to guarantee our high standards of quality and support."
Urban Crop Solutions develops tailor-made indoor vertical farming solutions for its clients. These systems are turnkey, robotized and able to be integrated in existing production facilities or food processing units. Urban Crop Solutions has its own range of standard growing container products. Being a total solution provider, they can also supply seeds, substrates and nutrients for clients that have limited experience with (indoor) farming. Currently the company has developed plant growing recipes for more than 220 crop varieties that can be grown in closed environment vertical farms. Some of these recipes (ranging from leafy greens, vegetables, medicinal plants to flowers) are developed exclusively for its clients by the Urban Crop Solutions team of plant scientists. With headquarters in Waregem (Belgium – Europe) and operations in Miami (Florida, US) and Osaka (Kansai, Japan) they are globally active.