ModuleX: The Modular Plant Factory
Smart engineering for scalability, adaptability, and efficiency
The ModuleX is our second-generation plant factory, engineered with commercial success in mind. It can be configured starting at one grow module, so your plant factory is scalable with the growth of your business.
One grow module features 86 m2 (926 sq. ft.) of growing surface. And each separate module allows for an independent climate zone and nutrient system, allowing your mix of crops to be adaptable to your customers' needs. The labour costs are reduced by our patented, automated crop-to-operator 'BenchCarousel' that is standard in every grow module. The ModuleX plant factory is the most efficient solution to maximise your return on investment.
Scalable
Start up small, prove your business model, scale up fast
The ModuleX is smart engineered with commercial needs and success in mind. You can therefore start up with a single module and grow up to a Module-64 (and beyond). As you develop new routes into the market, and attract more customers, you and continue adding grow modules to scale up your production to meet demand.
Efficient
Automated bench handling, higher growth surface, optimal light exposure
The ModuleX is our most efficient solution. Each grow module is built into a 40 ft. container and is fitted with an automated crop-to-person bench handling system – our very own patented 'BenchCarousel'. The BenchCarousel is designed to reduce labour costs by bringing each bench to you within 90-seconds for planting, crop control, and harvesting. Each grow module is fitted with two BenchCarousels, for a total of four growing layers. Handling a single bench is the equivalent of handling four gullies (irrigation gutters) at the same time.
The innovative design eliminates the need for a central corridor, thereby resulting in an increased growing surface, with higher plant density and increased yields. Each grow module contains an industry record of 86m2 (926 sq. ft.) of growing surface.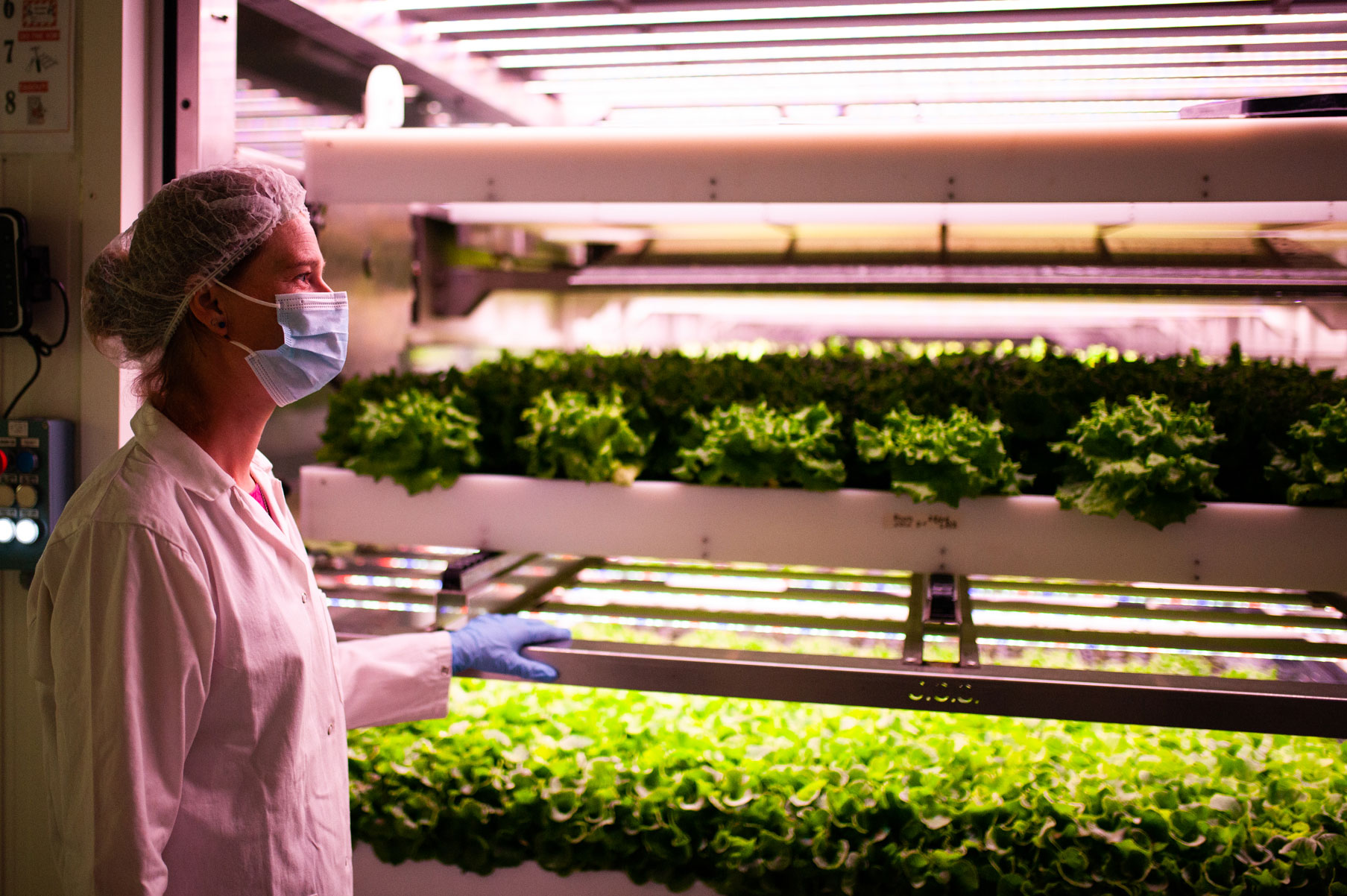 The rotating BenchCarousel moreover ensures that all crops have optimal and uniform exposure to LED light, by receiving 200+μmol of LED light close to the canopy (per rotation, every 90-seconds). And the individual benches allow for multiple growing combinations within the same climate zone, without disturbing one another.
You can therefore grow different herbs, leafy greens, and microgreens in the same grow module, with allocated benches. The benches can moreover be optimised for maximum plant density. For example, with Basil Genovese, we have achieved 220% higher planting density in our ModuleX system than with a gully/gutter-based system.
Adaptable
Independent climate zones & nutrient systems for maximum adaptability
Each grow module features 86 m2 (926 sq. ft.) of growing surface. And each with an independent climate zone and nutrient system, enabling you to grow crops originating from different climates side-by-side. With a short lead time, you can add grow modules to your business as you need, and adapt to the needs of your customers and your market.
At the Start-Up,
the customer needs are 2 crops:
Basil

– 4 Grow Modules used

Romaine Lettuce

 – 4 Grow Modules used
One Year Later,
the customer now requires 1 extra crop:
Basil

 – 3 Grow Modules used

Romaine Lettuce

– 3 Grow Modules used

Microgreens

– 2 Grow Modules used
Box-in-Box
Custom-built solutions adapted to your needs
The next generation ModuleX plant factory can be custom-built for and assembled on-site at your facility. The length of the carousel can be extended, as can the structure and set-up of the racks, as well as the variability of the levels.
With a custom designed 'Box-in-Box' ModuleX, you can both increase your growth surface, and adhere to certain specifications in your given space that may render the traditional ModuleX unfitting.