Urban Crop Solutions and the global supplier of horticulture and nurseries equipment, Da Ros S.R.L. (Italy) have agreed on a partnership whereby Urban Crop Solutions will add the peripheral automation equipment to its offerings with its clients. Through this partnership, Urban Crop Solutions, extends their end-to-end offering further, as well with after-sales support and maintenance on this equipment.
Da Ros S.R.L. is a machinery manufacturer with headquarters in Italy, that has been supplying the horticultural sector with specialised peripheral equipment for over 35 years. A well-known and trusted name in the industry, their footprint can be seen by their installations globally. As the go-to company for seeding machines, harvesting machines, and tray fillers – Da Ros have been the recommended partner for Urban Crop Solutions' customers with their peripheral needs.
As an end-to-end indoor farming solutions provider, Urban Crop Solutions already supports clients with their indoor biological needs and contract research trials – as well as the engineering and construction of indoor farms. This partnership with Da Ros, is an expansion of their offering, and offers their customers the convenience and guarantee of a more centralised and complete solution. Discussing what this means for Urban Crop Solutions, and why the company has opted to expand their offering to peripheral machinery, CEO, Jean-Pierre Coene explained:
"Urban Crop Solutions always takes a customer through the whole process of a project. We always start with the biological needs of the customer and adjust our solutions accordingly. This starts from our current standard solutions to the tailor-made solution for our customer. A large part of the profitability of an indoor vertical farm is achieved through automation. That is why we have chosen Da Ros as one of our partners for this automation. We also provide the necessary training to our own technicians for the service on these machines. Urban Crops Solutions wants to be one and the same contact for service on its installations."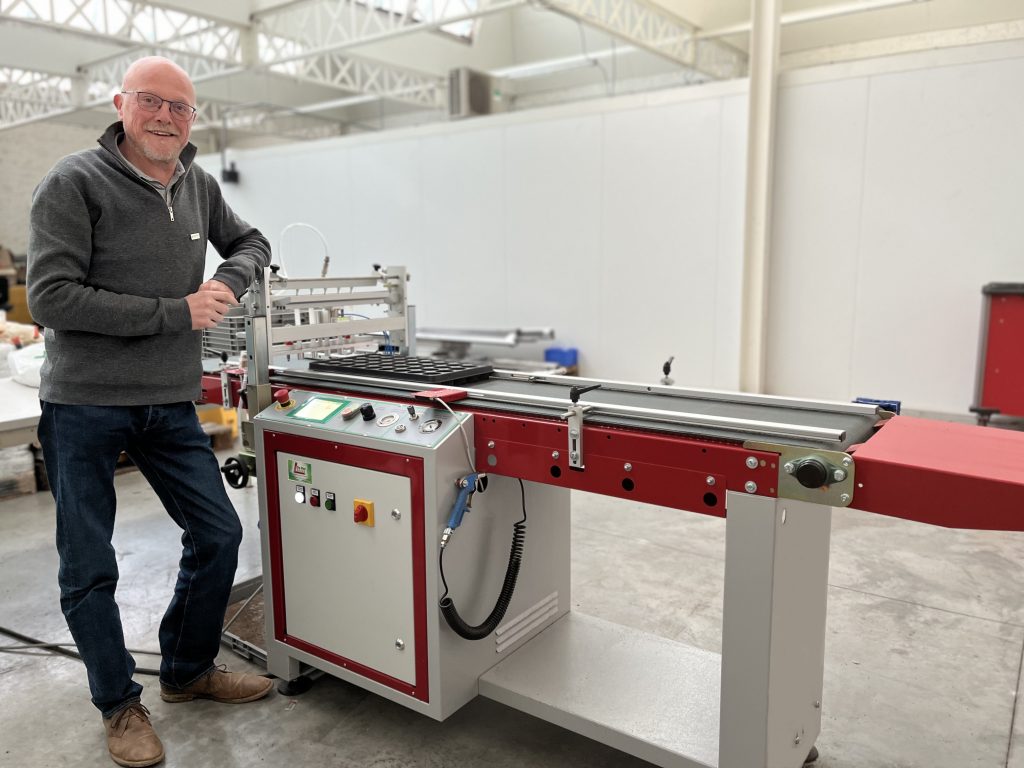 Photo: Filip Meeuws, UCS Global Sales Director, next to Da Ros seeding machine. 
Ultimately, what this means for customers is that they can now purchase seeding machines, harvesting machines and tray fillers produced by Da Ros – directly through Urban Crop Solutions, to support their indoor farming businesses. The service and maintenance of which, will also then be provided by Urban Crop Solutions.
"This expansion of our solution offering was for us the next logical step, as it was exactly what we felt was missing from our offering to make the entire customer journey as easy and smooth as possible" explained Global Sales Director, Filip Meeuws, who himself has over 30 years of sales experience in the horticulture industry.

"Starting a new business or expanding an existing operation in indoor farming is a considerable investment, and entrepreneurs need to have confidence in what they are buying – and that there will be support should they need it. This is exactly what we are now offering", he added.
Urban Crop Solutions has already begun the distribution of Da Ros equipment, with the addition of a drum seeder, to a total indoor farming solution sale. Urban Crop Solutions can distribute all seeding machines, harvesting machines, and tray fillers in their range, and remain the exclusive vendor for Da Ros in Belgium. Having spotted this gap, Urban Crop Solutions have been in the process of signing deals with other trusted suppliers to complete their offering. More announcements are to follow.